Welcome to THE HOME.SEWN HOMEMAKER- an integrated makers and bakers platform where we will discuss the importance of a period.  I will let you decide which one.  
Do not let the Connecticut address fool you, we're 100% North Carolina - just temporarily relocated.  Our style, name, history, friendship, everything about HOME.SEWN was born in North Carolina.  
>>>
Transferring to Connecticut has really been a change, and it has opened my eyes to how the North Carolina textile industry is viewed.  No one realizes how much North Carolina was shaped by the textile industry - and the reason is obvious.  It has simply vanished.
I found the best documentary by Robert Newton, where he covers the history of textiles in North Carolina + how much the state relied on production and then how and why it began to vanish. 
He notes that over 160,000 jobs were lost over a 12 year period.  Imagine what that does to an economy.  I saw this first hand, as my grandmother was an employeee of a once booming mill that eventally switched gears and packed for an overseas endeavor - resulting in job loss.  It was the same story, over and over.  
With the loss of the textile industry also came a loss in textile skills.  Everyone that I had ever met (until about the age of 16) had a grandmother that made all of her clothes at one point, maybe 2% of those people actually posessed the skill themselves.  
Luckily, my uncle had learned to sew and began teaching me around the age of 10.  Not long after I began sewing my great-grandmother passed, leaving behind a collection of unfinished quilts, luxurious textiles, and vintage thread + notions.  Since I was the "newest" seamstress in the family (and quite possibly one of the only, aside from my uncle), I inherited it all.  That moment was so transformative for me.  
Over the next 14 years I carried along small samples of my grandmothers collection, hoping to find the perfect endeaveor to invest her timeless treasures into.  
During that time I had decided to steer away from my "dead set" path for law school and switch over to textiles.  In January 2011, I obtained my Bachelors in Apparel Construction and Textiles.  As a gift that Christmas, my mother had happened upon a luxurious stash of left behind textiles from a drapery shop that had (at some point) gone under.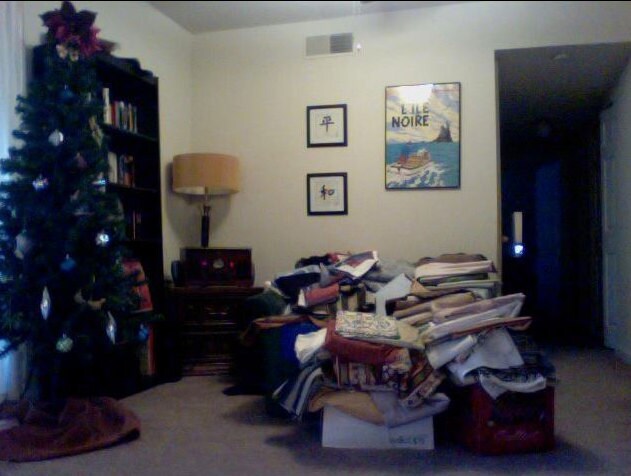 -- Here it is - the original stash - Christmas 2012.  Pardon the quality, cell phones probably still flipped open back then. -- 
So there I was, golden opportunity.  Beautiful North Carolina textiles in various textures and sizes, the finest quality that money can buy..right..in..front..of...me. 
At the time, Jessie and I had been working together at a local restaurant (thanks for getting me that job, by the way).  We grew up together, faced the same challenges, wanted the same future - and we talked about it every day. 
Eventually we formulated a grandeur plan to build our own business.  We worked for WEEKS trying to get the perfect logo, products, schedule.  Holy shit - we worked tirelessly for months.  But in that time, HOME.SEWN was born.  
I had finally found the perfect way to use my great-grandmother's notions in a way that would help bring to life a forgotten industry + revive the left behind articles of fallen store fronts. 
<<<
North Carolina is slowly climbing out of its hole - textiles are making their way back.  Companies like Raleigh Denim, Spoonflower, and High Cotton are working together to help rebuild the state's repuation - and we could not be more pleased.