Welcome to THE HOME.SEWN HOMEMAKER- an integrated makers and bakers platform where we will discuss the importance of a period.  I will let you decide which one.  
Alright - so by the time that you finish reading this (and it really sinks in), Halloween will only be ONE WEEK away.
I suppose that you could just sit there and decide, "I don't think that I will dress up this year - I can't really afford it and I don't really have anywhere to go".  I know that's what you're saying because that's the universal excuse for "I have no idea what to wear and whatever I choose is not going to be good enough".  See, I called your bluff.
You could, on the other hand, just go ahead and "sit this one out" - but I have a feeling that your FOMO (fear of missing out, for those who don't yet know) will kick into high gear when you see everyone's Facebook posts the Saturday before - wait, is that when we're actually celebrating?  WE HAVE LESS TIME THAN WE THOUGHT.  
So here we go - tips + tricks to have the best costume on the block (without breaking the bank or spending all summer constructing it).  For the record, I DO hate those wasteful (and fucking expensive) Halloween stores, so don't cop out and try to grab something there...use your creative abilities!
Oh, before we start, don't judge my doodles - I never claimed to be an illustrator. 
THE RASPBERRY - You can be a fucking raspberry.  Anyone else you know being a raspberry?  Nope, didn't think so.  Simply get a burgundy top + burgundy bottom (pants, skirt, etc.) and cover yourself with red + burgundy balloons.  The best way to attach?  We'd say hot glue.  You could also use safety pins (through the balloon stems), but I think that'd be a hazard.  This trick also works for grapes and blackberries.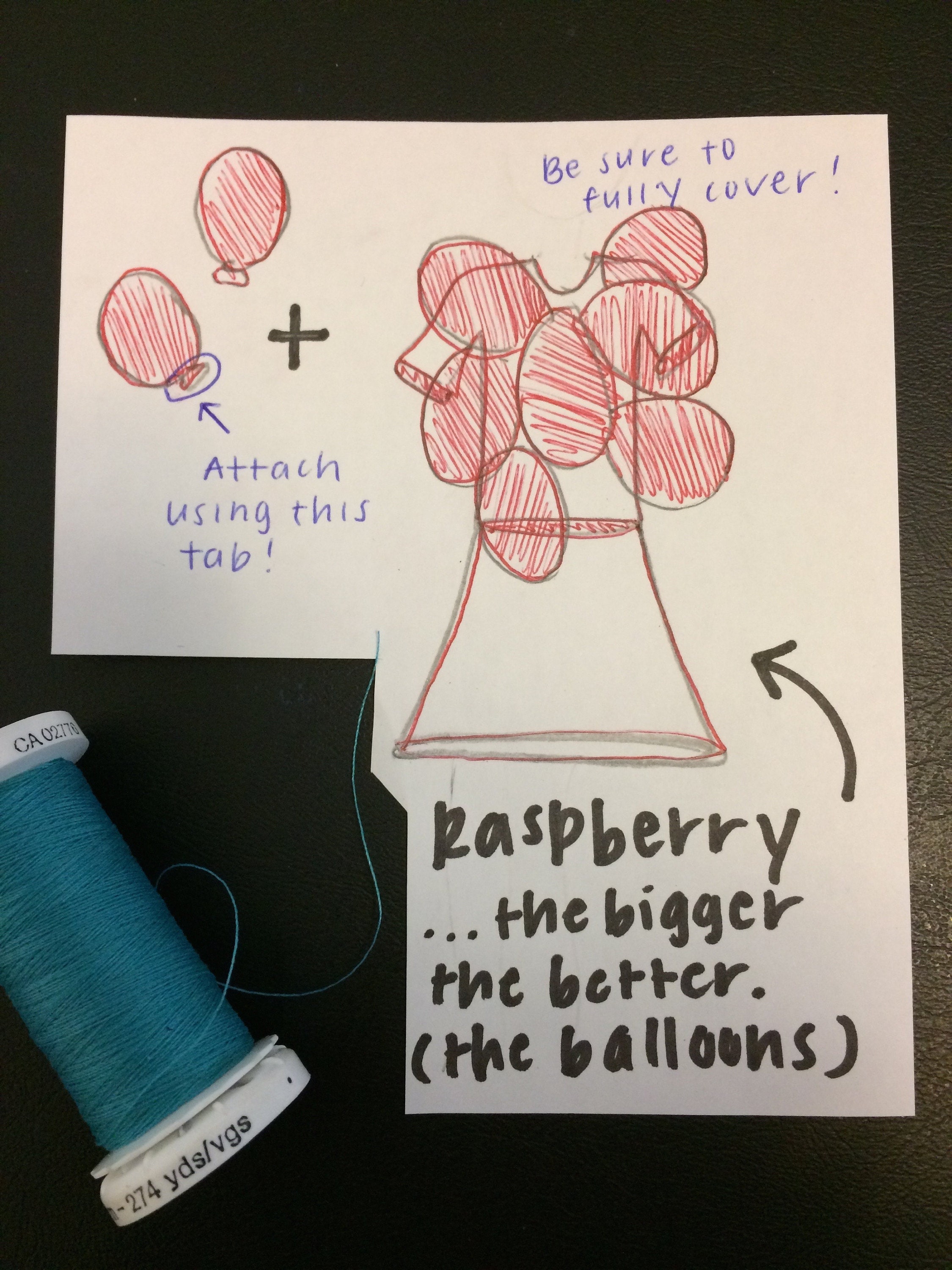 DEVILED EGG - Do you have jeans + a white t-shirt?  You can be a deviled egg.  Take your white tee, paint a yellow oval in the middle.  Grab yourself a devil tail + ear set (bonus points for making your own out of felt!) and TADA.  You have now become my favorite Thanksgiving delicacy.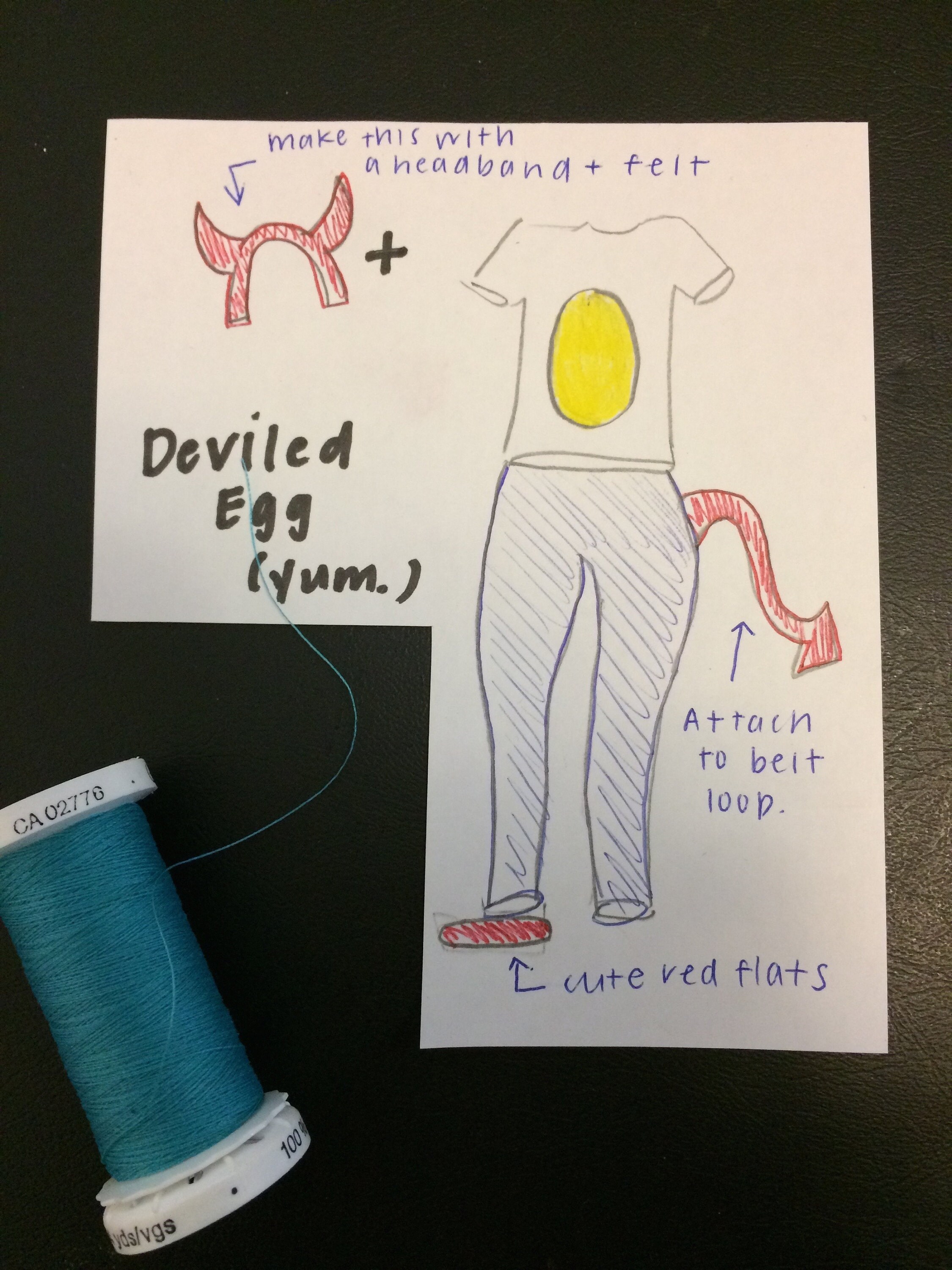 CACTUS - Be warm, look awesome, + be on trend this year - be a fucking cactus.  A green long-sleeved top paired with a green bottom (skirt, pants, leggings, tights, whatever...) will suffice.  After that just take some pom poms (or cotton balls that you've dyed green with Kool-aid) + BLUNT toothpicks and glue them all over.  To really take it to the next level, add some felt pink flowers for your sleeves and head!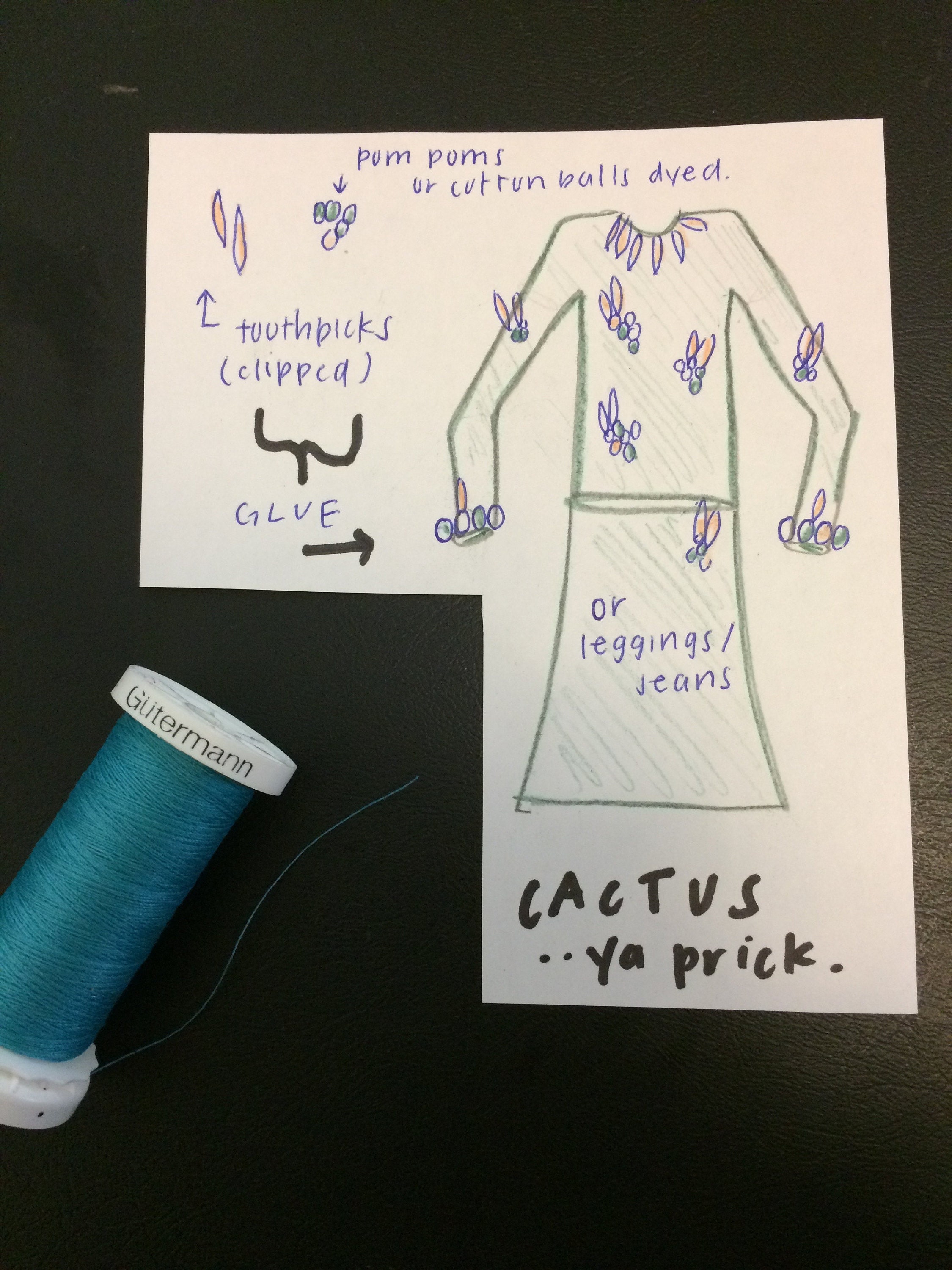 PIG IN A BLANKET - For those of you who live in the arctic (or the Northeast), Halloween can be cold AF.  Who wants to run around half naked when it's less than 30 degrees out?  Maybe you do, but you can WEAR A BLANKET over your scandalous costume while you're outside.  Genius.  Here's what you do:  put on a cute, pink mini-dress (or skirt with a top tucked into it), don your ears + nose + tail, COVER UP WITH A BLANKET.  I know, it's so good that I probably should have just kept it for myself.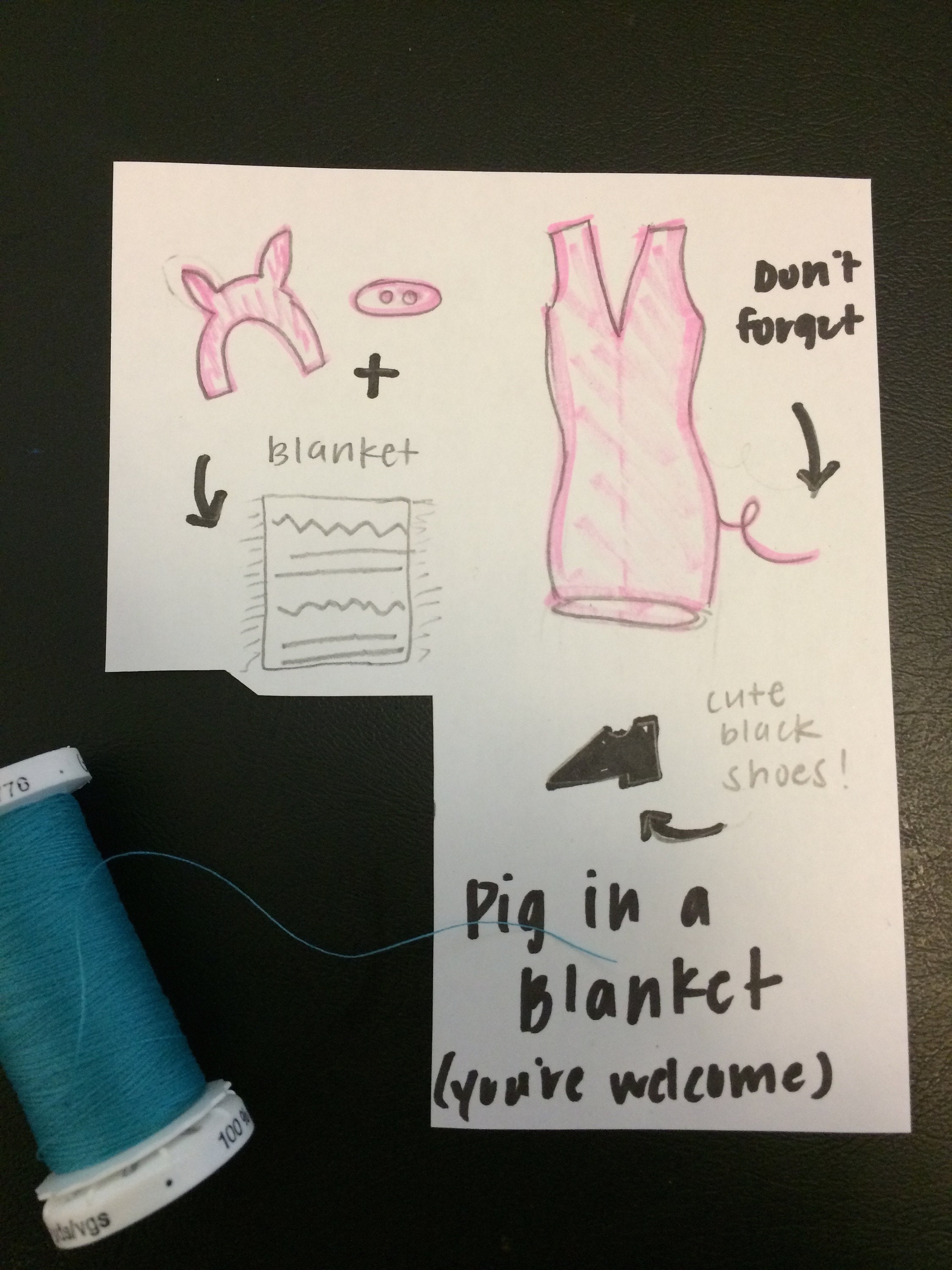 I hope these help you + open your mind to the posibilities of cool costumes that you already have in your closet!  Not to mention all of the cool shit that you can make out of cardboard boxes + felt.  YOU CAN BE A ROBOT, it's so easy..but I am running out of time.  If you're interested, email me.  
I've got to get going.  SO many things to get done before our holiday market.  If you have any questions (or comments) about any of these, don't hesitate to reach out!   
OH - and if you DO decide to do one of these, SHOW US.  We would love to feature you on our IG (or even put your cute costume on this blog post).
HAPPY HALLOWEEN (almost), xoxo!  -- Alyssa.